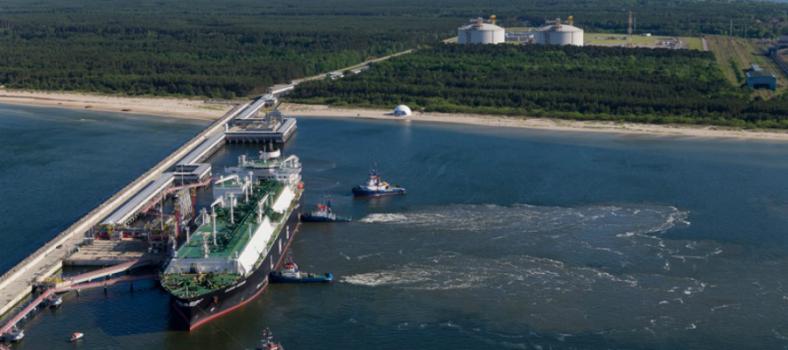 Liquefied natural gas from Cheniere Energy has arrived at the President Lech Kaczyński LNG Terminal in Świnoujście. It is the first such delivery to Central and Eastern Europe. PGNiG plans to conclude more spot agreements.
The ceremony of receiving the first ever cargo of liquefied natural gas from the USA took place on June 8th and was attended by Prime Minister Beata Szydło and representatives of government, parliament, local authorities, PGNiG SA and Cheniere Energy.
This is not only the first delivery of American LNG to Poland but also the first one to this particular part of Europe. The contract between Polish Oil & Gas Company (PGNiG) and the American company Cheniere Energy was facilitated by PGNiG's LNG trading office in London.
"North America is the next region of the world where we import natural  liquefied gas from", said Piotr Woźniak, President of the Management Board of PGNiG SA. "This delivery proves that Poland can successfully act as a gate for American LNG to this part of Europe. It strengthens PGNiG's international position and allows us to achieve our business goals even more efficiently. The growing involvement of our company in the LNG market and the purchase of gas from the USA are the consequences of our strategy to diversify gas delivery sources for Poland allowing us to build energy security of our State."
"Delivering this cargo from Cheniere to Poland demonstrates the continued demand for US LNG and for Cheniere's full-service model that includes the delivery of LNG directly to customers", said Andrew Walker, Vice-President, Strategy at Cheniere Energy. "PGNiG has been an excellent partner in this purchase, and Cheniere is pleased to support Poland accessing LNG from the US to meet their economic and environmental goals".
The delivery from the USA is the second spot (short-term) contract for PGNiG after the delivery from Norway in June 2016. The company has announced more spot deliveries, the next one already planned for July.
PGNiG is consistently strengthening its position on the international LNG market. Purchasing gas from North America and new contracts are allowing the company to expand its import portfolio and increase effectiveness in utilising the capacity purchased by the company at the Świnoujście LNG terminal.
Source and more information: PGNiG